2024 USSSA Points Race
USSSA is awarding a Regional Points Race Champions to the listed divisions below in fastpitch. Your team will compete in a Points contest against teams within your Region for this award!!
The 2024 USSSA Points Race includes regional races and state races.
To view how many points are available in each event, please click on the links below to view the various statures and how USSSA points are awarded.
Program Requirements:
Eligible Events: August 15, 2023 to end of the 2024 Season.
REGIONAL POINTS RACE:
Regions: See below
Teams: All teams from all state are eligible. See breakdown of states by region below.
Awards: Top team in each division per region will receive a 2024 USSSA Regional Points Race Championship Ring.
Minimum Participation: Divisional point champions must earn a minimum of 500 USSSA Points to receive the Regional Points Race Championship Ring.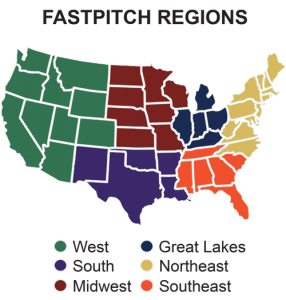 Fastpitch Divisions
8U
9U: C/Open
10U: C/B/A/USAES
11U: C/Open/USAES
12U: C/B/A/USAES
13U: C/Open/USAES
14U: C/B/A/USAES
15U: C/Open
16U: C/B/A/USAES
18U: C/B/A/USAES
Fastpitch Region Breakdown
Great Lakes
Illinois
Indiana
Kentucky
Michigan
Ohio
Midwest
Iowa
Kansas
Minnesota
Missouri
Nebraska
South Dakota
North Dakota
Wisconsin
Northeast
Connecticut
Delaware
Maine
Maryland
Massachusetts
New Hampshire
New Jersey
New York
North Carolina
Pennsylvania
Rhode Island
Vermont
Virginia
West Virginia
South
Arkansas
Louisiana
New Mexico
Oklahoma
Texas
Southeast
Alabama
Florida
Georgia
Mississippi
South Carolina
Tennessee
West
Arizona
California
Colorado
Idaho
Montana
Nevada
Oregon
Utah
Washington
Wyoming